Posted by:
BakedPickled
| Posted on:
December 9, 2014

Our Story
Following our passion for fresh, traditionally made foods we produce our products by hand using traditional methods mixed with unique flavours and ingredients.
Our Mexican
After multiple trips to Mexico, owner Paul Luckett found that the authentic, traditional flavours easily found on every corner throughout were nowhere to be found back at home. With great effort Paul sourced the spices and peppers needed to lovingly coax these flavours out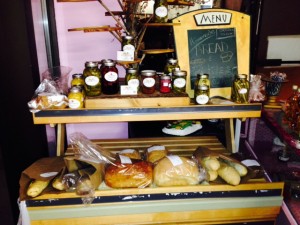 of Mexico and bring them home to share with you. Please come and share our passion for the Authentic and Unique alike found in our signature products including our Carnitas Tacos made with our own fresh tortillas, Stuffed Aged Cheddar Jalapeno Baguettes and pickled peppers including Ghost peppers, Habaneros and Jalapenos.
Carnitas Tacos- Working with local growers we have been able to source many of the authentic spices and peppers needed to authentically recreate our authentic Mexican dishes. Some of these peppers and spices include Mexican Oregano, Poblano, Guajillo and Arbol peppers.
Mexi-Veg
Mexican food loves vegetarians. Stay light without sacrificing flavour or selection with our vegetarian charred pepper or vegetarian Chorizo tacos, tortas, loaded nachos and more.
Tortas
We use our own breads for all of our sandwiches. You can choose either spicy or plan bread, your stuffing of either tender chicken or beef, toppings and then the big decision….to sauce or not to sauce. You can have your Torta "Dipped" in either our savoury or hot house sauce for a special treat. Messy and worth every drop!
Our Breads
Pauls quest for the perfect crust and crumb comes from the nostalgia felt for Grandmas kitchen. The result of that quest is our Homestyle white loaf. But, that's just the tip of the iceberg. Himalayan Rocksalt Sourdough, Selection of signature "Stuffed" baguettes, Honey'd 12 Grain, Organic 9 Grain and selection of Gluten free products including GF Aged Cheddar Jalapeno loaf and GF Seasoned flatbreads are just a few of the regulars you can expect to find in store weekly.
We love the freedom of being a "small batch" baker as it allows us to always be creating new breads to best suit our specials, recreate memories from abroad and, of course, cater to our customers. If you are nostalgic for a flavour or taste of the past or abroad we want you to share it with us. You might find it in store as a special or make it a special order just for you!
Posted by:
Paul Lucket
| Posted on:
January 17, 2015
Today at Sheilas Sugar and Sticky Sweet Stuff in Meaford you can find fresh Seasoned flatbread, Gluten Free Aged cheddar Jalapeno loaf and Aged cheddar stuffed baguettes. In Collingwood, The Collingwood Real Food Market has fresh seasoned Flatbreads, and a full selection of our Charred salsas from Mild Charred Poblano with Agave nectar to Charred Ghost Pepper salsa.
Posted by:
BakedPickled
| Posted on:
January 8, 2015

Where to find us
Our Retail Partners
Our current retail partners include The Lively Olive and The Collingwood Real Food Market in Collingwood. The Creemore 100 mile store and Sheilas Sugar and Sticky Sweet Stuff in Meaford. You can find our line of Charred salsas, pickled products and fresh baked breads at any of these great stores. Please feel free to discuss special orders or personal requests with any of our retail partners so we can better serve your needs for any special event from a dinner party to a banquet. Watch our website and facebook page for news of our own location opening soon!
At the Market
We source local, support local and are a proud part of our local and partner communities. From Spring to Fall you can find us at farmers markets providing a selection of fresh baked breads, Salsas, Seasonal Pickles and Preserves. Being a part of these markets allow us to get our ingredients direct from the farmers often within hours of harvest. As mentioned in our preserves page, this close relationship with growers allow us to have our seasonal preserves jarred fresh for you within 24hrs of being picked. So, come visit us at the market and meet the farmer who provided us the fresh fruit and vegetables found in your jar of strawberry preserves, pickles and salsas. Want to visit us at the market? Contact us for market details.